EXPERT GARAGE DOOR REPAIRS
Garage Door Spring Replacement Stoney Creek, No matter how big or small the repair job is, we will fix your broken garage door! call us 647-930-0896
Garage Door Spring Replacement Stoney Creek
Contact Us Today to Schedule a Call Out Here at O-B Garage Doors, we are garage door repair specialists. Our technicians have years of experience and specialist in garage door spring replacement.

647-930-0896



O-B Garage Door Spring Replacement Stoney Creek, we provide fast and affordable garage door spring replacement and repair services in Stoney Creek, Ontario. We take great pride in our efficient customer service and the quality of our products and we strive to get your door up and running in no time.
We understand how difficult things can become when the garage door springs aren't functioning well. Torsion springs are an important part of your garage door. They take up the weight of your garage doors when they open or close and are designed to ensure the garage doors can be manually operated effortlessly.



YOUR LOCAL GARAGE DOOR SPRINGS REPAIR EXPERTS
Torsion springs are springs that take up the weight of your garage door when operated. They have been designed in such a way that the garage door may be operated manually with ease.
Good, quality springs also reduce the wear and tear on the opener by taking pressure, stress and load off the motor cog and internal gears. This will increase the life of the opener on residential roller doors and sectional overhead garage doors, which are also known as pane lift doors.
The most common failure in garage doors are the springs. Your garage door springs essentially do the heavy lifting and with regular use will eventually need replacing. If you notice your springs are broken or your garage is opening on an angle don't try to fully open your garage. Contact O-B Garage Door Spring Replacement Stoney Creek and one of our trained staff will come to your home and replace your garage springs.
Has your garage door spring broken and your door will only opens a little then stop? It's time to call O-B Garage Door Spring Replacement Stoney Creek now 24/7.
We will beat any quote on changing your door springs.
With the frequent use they receive, the springs on your garage door can take a beating. Signs of old or under performing springs include the door jamming or squeaking upon opening or closing, as well as visible damage to the springs.
Our experienced technicians can quickly fix or replace your old or broken springs. Each tradesman is fully equipped with a range of springs, to ensure they have the right fit for you. Don't let other companies tell you that they have to 'measure up' for new springs. Even with larger doors, we will always have the correct springs ready for replacement on the same day. Our vehicles carry all types for all doors – guaranteed.
In addition, all of our springs are high quality, commercial grade products that are made to last. Call now for our generous warranty on all of our domestic range springs
They are very experienced in all manner of garage doors. We offer garage door spring repairs across the GTA Ontario. We can provide you with a quote at any hour of the day, so make sure you call us as we will not be beaten on price.



Commercial car park spring replacement
Stoney Creek Garage Door Spring Replacement, We replace springs on your commercial car park sectional garage door. We will sit down with you to determine the correct springs to put on your garage door, based on how many vehicles in your complex or building. By doing this we will fit with correct springs to ensure many years of operation.
Signs of Garage Door Spring Replacement
There are many signs that indicate that a garage door spring is damaged. If you notice any of the following signs, it's time to consider garage door spring replacement:
* The door isn't opening all the way.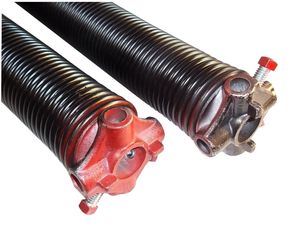 * The garage door cables are slack or loose.
* The garage door doesn't open easily and feels really heavy.
* The door is crooked.
* The door opens just a few inches.
* There's a visible gap in the torsion spring.
* The door falls rapidly when it's coming down.
* The door is shaky when it opens and closes.
* There's a loud bang coming from your garage.
If your garage door has suffered damage or is deteriorating from old age, it's important to get it repaired. A garage door with visible signs of weakness is a common target for thieves and it may be unable to keep your home secure. The team at O-B Garage door provides local garage door repairs for all garage door issues, ensuring your home remains safe and secure at all times.
We're proud to supply and install garage doors across the GTA of Ontario. Choose a garage door from leading manufacturers and customize it from a range of styles, colours and designs. We'll deliver your chosen garage door to your property and install it with accuracy, efficiency and care.
We understand that sometimes your repair just can't wait. If your garage door has been damaged or your lock no longer works you'll want to get this repaired as soon as possible to secure your property.
That's why we offer an emergency service 7 days a week where possible, endeavouring to offer a same day service. 
Experienced Garage Door Installers
Sometimes garage doors are beyond repair and need to be replaced. Our team are experienced in installing both manual and automatic garage doors. We also offer to install garage doors that you have purchased yourself regardless if new or used.
Garage Door Spring Replacement – Our Process
Our technicians release springs in sets. This precautionary measure ensures the safety of your garage door. When the first spring breaks, the remaining spring takes all the load, putting a lot more tension it is used to. This will significantly weaken the steel coil.
Once the broken spring is replaced, the surviving spring has to match up to the efficiency of the new spring and as a result, will break eventually.
If you have a broken panel spring, we need some basic information to be able to bring suitable replacement springs.
Torsion springs are chosen based on the weight and the height of your door. Ideally, we would like to know the diameter, the length and the wire size of the broken spring. If you can't find this information, knowing the height, brand and the width of the door will provide us enough detail to bring suitable replacement springs.
If you've got broken tilt door springs, let us know how many springs are on the door in total and whether the tilt door is a jamb or track type tilt door. This will help us to decide what type of springs and how many springs to bring along.
Call us at

647-930-0896

or fill in our contact form to fix your garage door problem.
Once we receive your call or email, we will provide a price estimate over the phone and schedule a site visit. We look forward to assisting you.
REPAIRS AND HEAVY DUTY SPRING REPLACEMENTS
Garage door torsion springs normally break when the door is in the closed position because this is when maximum tension is placed on the springs. A very loud bang or crack sound may be heard when this occurs. There will be a split or a separation of about 2 inches or 5 cm showing in the middle of the broken spring.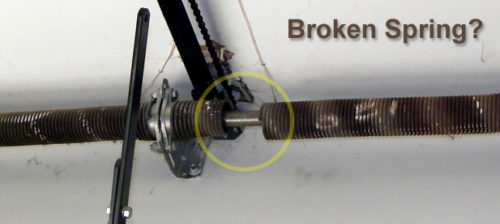 A torsion spring needs to be replaced with a new spring before the garage door can be operated. If the force settings on the remote controlled opener have been set up correctly, then the garage door should only lift 10 cm or 4 inches and cut out. Also, if you have a double garage door with two springs, only one spring will break at first. We highly recommend that both springs are replaced at the same time because, the spring that is not broken will break at any time.
TRUST OUR GARAGE SPRING PROFESSIONALS
The life expectancy of a torsion spring is normally around 10 years or 10,000 revolutions or cycles. The order of one up and one down constitutes one cycle.
There are many different sizes of garage doors manufactured and installed, so it is very important that the correct size new torsion springs are installed. As a rule of thumb, if the garage door is able to be lifted with one hand and without strain, then the right torsion springs have been installed and tension applied is correct. Any work performed on sectional door torsion springs should only be done by an experienced technician, because of the hazards involved.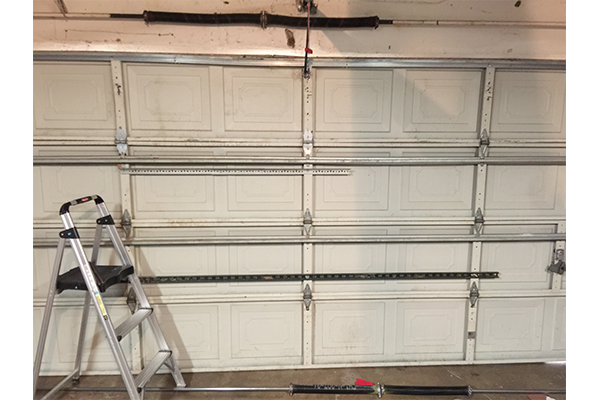 Garage Door Spring Repair & Replacement
At Garage Door Spring Replacement Stoney Creek we can provide repair and replacement solutions for garage door springs in Stoney Creek, Ontario. There are numerous signs that indicate your garage door spring might be broken, including an opener that strains to open the door or a tilt door that pulls to one side and jams during operation. Fortunately, our specialists are sufficiently trained and equipped to handle these mechanical problems and restore the functionality of your garage door.
SPRINGS
Torsion springs are the main contributor to break downs & entrapment. Torsion springs if not installed correctly or not maintained regularly can cause a lot of strain on the motor which will drastically reduce the life of the motor & in the worst case a spring could break resulting in the door being stuck down until fixed.
We also offer a fast and thorough 24 hour emergency repair service

(647-930-0896)

throughout Stoney Creek and the surrounding areas.
 Advice and Recommendations
When garage door torsion springs break, you should stop using the door immediately. Although it might continue to function, opening and closing the door will significantly increase the load on the motor. Continued use may cause the motor to burn out, leading to much higher repair and replacement costs. Attempting to operate the door with a broken spring or tampering with the door workings is also extremely dangerous.
Our garage door spring repair services involve replacing the springs in sets.
A broken spring transfers load and tension to the remaining spring, greatly weakening its steel coil and compromising its ability to function optimally. The surviving spring needs to be replaced or it might also break while trying to keep up with the new spring.
Get in touch with us today for details about our garage door spring replacement cost or to find out more about our other services, including garage door opener installation and garage door repairs.
Sectional garage doors are a fantastic option for all types of property; suiting modern, traditional and even period homes, the sectional garage door offers so many great benefits! They are made up of separate sections rather than a single panel, which allows for their smooth operation both manually and electronically.
We open 24/7 Call 647-930-0896