Keswick Garage Door Spring Replacement
Do You Need Garage Door Springs Repair?
General Garage Door Maintenance – Garage Door Repairs – Broken Garage Door Springs – Automatic Opener Repairs And Replacement 

647-930-0896



Keswick Garage Door Spring Replacement, Without a doubt, the garage door spring is one of the most essential parts of your door, so a garage door spring replacement in Keswick, Ontario might be just what you need to fix a broken roller door. These springs are highly dangerous if worked on by anyone other than a professional, so be sure to give the O-B Garage Repair team a call.
We'll be on-site right away to determine whether your garage door springs are Torsion or Extension springs, and we'll work on a fix.
We repair all types and brands of garage doors and Automatic garage door openers, We can normally repair your garage door the same day or within a day or 2 for non urgent garage door repairs or services and in urgent situations such as car stuck in garage or garage door wont close we can come and solve your garage door problem within a 1 hour or less.
We Carry Most Replacement Parts Including Garage Door Springs And Cables Along With Replacement Garage Door Motors And Also Carry Most Replacement Garage Door And Gate Remote Control Transmitters So We Can Sort Out Most Issues
With Most Garage Doors And Openers In One Visit Saving You Valuable Time And Money!
We have been repairing garage doors in Keswick and Barrie Ontario area for over 20 years. We have plenty of knowledge and experience so whether you have a broken garage door spring, a garage door opener that is driving you crazy or need your car extracted from your garage door then we can help.
O-B Keswick Garage Door Spring Replacement, we provide fast and affordable garage door spring replacement and repair services in Keswick, Ontario. We take great pride in our efficient customer service and the quality of our products and we strive to get your door up and running in no time.
Broken Garage Door Spring? call 647-930-0896

Keswick Garage Door Spring Replacement





We are experts in garage door spring replacement and have been replacing garage door springs in the Keswick Ontario for over 20 years!
Garage door springs are under extreme tension and can break for a Many reasons. Extreme heat or cold, for instance, can stress the springs to the point of breaking, or it could be that normal wear on older springs could cause them to break. Whatever the situation, a broken spring can make your garage door inoperable. You will not be able to open or close your garage door will when a spring is broken, and it is dangerous to try as the garage door will be extremely heavy.
We always carry a whole range of garage door springs for all brands of sectional and tilt garage doors and can give you a firm quote on the spot or even over the phone.This means you will not have to stress about how much it is going to cost or how long you will have to wait to have your garage door working again
Call Now! 647-930-0896 For same day service.
Got a broken spring?
We at O-B Garage Door Repair in Keswick, Ontario, specialize in repairing and replacing broken overhead garage door springs!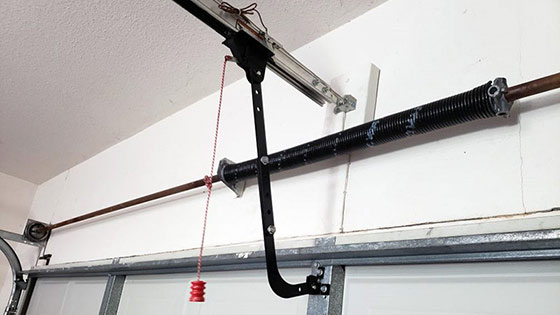 Broken garage door springs are a major hassle because all of a sudden, in the blink of an eye, your garage door is stuck and will no longer open or close. One moment you were ready to take the kids to school or off to work, coffee in hand. The next moment you are trying to detach the emergency release and open the door manually! Guess what? There is no way you will manually open a 500 pound garage door without the assistance of your spring!
The garage door spring is what basically makes it possible to open your garage door. The opener, motor, doesn't do much to actually pull the door up. If it did, it would probably last a few days and end up a smoking, burnt up mess! thats a lot of weight to pull! The extraordinary torque that is put on the spring when it is installed is what actually "pulls" the door up and does the heavy lifting every time you push your wall button or car remote. When that spring breaks, there is no more assistance by the spring. There is no way the door is going up unless you have a functional spring that is set with the proper torsion.
There are many different kinds, sizes and quality levels of garage door springs. There are residential springs and commercial garage door springs. There are cheap garage door springs that will work for 3 months of average use and there are high quality, high cycle springs that can last for years. Many garage door repair companies try to make the most money by selling you the cheapest, flimsiest springs that will get you up and running but they will not last long at all. Then you will be in the same predicament in only months time, spending more money and waiting on them to come back.
We believe in using very high quality yet affordable garage door springs with professional installation. You get a solid spring that will last much longer and you can rest assured you will not be stuck with a broken spring again anytime soon. We have replaced thousands of garage door springs in the Keswick Ontario area and know exactly how to install the right spring for your garage door.
Call us today and let us show you why we are Keswick Broken Garage Door Spring Specialists! We look forward to your call and providing top notch service, expert garage door spring replacement and low, affordable prices!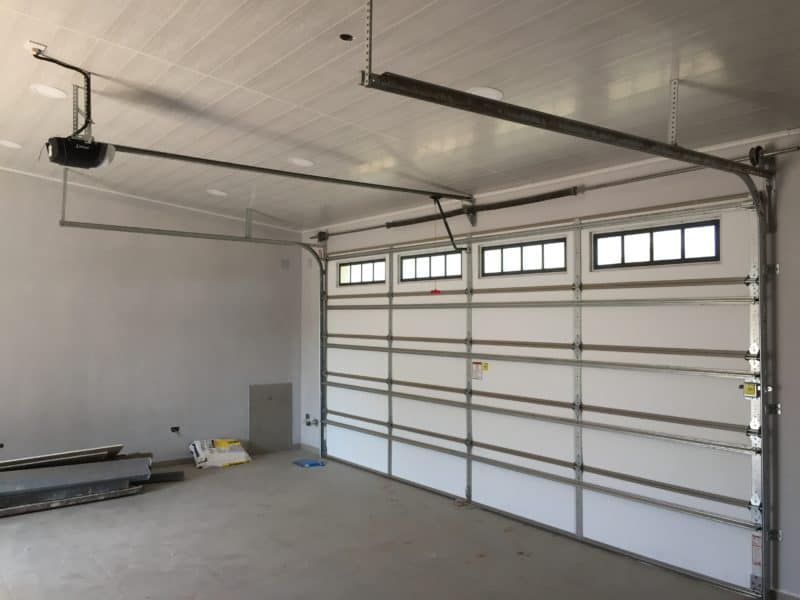 Garage Door Repairs and Spares
Keswick Garage Door Spring Replacement – Garage Door Servicing
A Company to Trust
When things go wrong, O-B Garage Doors is the perfect company to call. We won't make a drama out of crisis – we've been repairing garage doors for years and we're very experienced in returning your garage door to full working order. We carry spare parts for most door types so we can often fix your door on our first visit.
Fast & Professional
In an emergency we can often be with you the same day and will do our best to keep you updated on progress – we know how frustrating it can be when things go wrong.
Regular Maintenance Makes Garage Doors Last Longer and Keeps Them Safe
Keeping your door properly maintained not only ensures you comply with the conditions of manufacturers guarantees but will also often prevent door failure and extend the working life of your garage door. We have a fair priced annual service plan for garage doors and you can sign up for the service online here with a 10% saving. We'll provide a service report that identifies the work carried out and a full safety checklist.
Safe & Secure
If your garage door cannot be repaired immediately we will always make sure the door is in a safe and secure state before leaving. We have strong links with all the major manufacturers so we can fast-track any parts that are needed, or if the door is beyond repair we can get you a new door quickly.
Spares in Stock, Expert Advice
We carry stocks of many spare parts at our showroom and these can be collected form our showroom or ordered over the phone. Extra transmitters for remote controls, replacement locks and springs are all in stock. We'll help you identify the spare you need and advise on what repairs can be safely carried out by a competent DIYer and those that should be carried out by a service engineer.
Sectional Door Springs
The torsion springs are for sectional garage doors made up of panels which open vertically with each panel turning 90°C as the door goes up to eventually lay horizontal under the ceiling when open. These springs can be identified by having 'plugs' at both ends, which are identified by colour coding.
When your garage door spring is snapped, we recommend that both springs can be replaced at once because they are same ages so one spring is snapped which means the other one also will be snapped soon.
Matching springs with your door, we measure the door weight and height then calculate the right turns and springs.(please refer to the following spring calculation table) When your spring was snapped, never touch the door or springs for your safety, or try to operate the door opener which will cause the serious damage on your opener, contact us or nearest garage door service.
Garage door springs are the true magic of the garage door. The garage door springs make the operation of the garage door smooth and easy. Sometimes these springs need to be replaced because of breakage and normal use over time. The garage door spring in under tension most of its life so the daily operation of the garage door opening and closing several times a day will eventually lead to breakage of a spring or the loss of lifting capacity. So the garage door springs should be replaced from time to time because of wear and tear and constant opening and closing.
There are two types of garage door springs:
Sectional Garage Door Springs
Sectional Garage door springs are torsion springs. The torsion springs make it possible to lift a sectional garage door with ease. The springs are often fitted in pairs but larger garage doors may have 3 or 4 torsion springs depending on the weight of the garage door. The torsion springs are mounted on a torsion pole or pipe located above the garage door on the lentil.
The springs are usually in the center but can also be off to one side or the other depending on the space available for them. The typical lifespan of a spring is on average 8 – 12 years. A new spring is guaranteed for 10000 cycles which is about 6 years. It is not uncommon to see a spring last as long as 14 years. Spring life is reflected on just how busy a homeowner is and how often the garage door is used.
Over time the garage door spring loses tensile strength and metal fatigue from stretching causes the garage door spring to break. A broken garage door spring is a common occurrence. When it happens Keswick Garage Door Spring Replacement standard practice is to replace all the garage door springs.
The reason for this is because all of the spring are of the same vintage and a broken garage door spring usually has a partner spring that is the same age and could break in the near future if it is not replaced. We recommend that you keep all your garage door springs the same age. This is the most cost effective approach and you will avoid further call out costs and you will be confident that when all the springs are renewed you will have 8 to 12 years of trouble free use.
A properly balanced garage door can add years of life to your garage door motor. Many people think that the motor lifts the garage door. This is not the case. It is the springs that do most of the work to open your garage door. A correct calculation of spring size is required in relation to the weight and height of the garage door.
A garage door is properly balance when it can remain in one position when it is opened to the halfway position. If the door will not sit in the halfway position but falls closed then it is improperly balanced. The door must also be able to remain fully open by itself without falling to the closed position. If your garage door is closing from these positions then the springs need to be adjusted or replaced.
Please note: Sectional garage door torsion springs are under great tension if you have a broken spring don't try to repair it yourself! Not understanding how the torsion system works and attempting to repair the broken spring yourself could lead to injury. Do not try to used the door until the broken torsion spring is repaired as the door cables can unravel putting the door on an angle or jamming it in an awkward position in the opening.
Tilt Garage Door Springs
On either side of a Tilt Garage Door there is a spring fitted to counterbalance the garage door when opening and closing the door. Large tilt garage doors may have larger springs or may be fitted with two spring on each side.
The life expectancy of a tilt spring is anywhere from two to twenty years depending on the load they are lifting and the frequency of use.
Please be aware that tilt door springs are dangerous when they break and due to metal fatigue they will break eventually. There is no way of assessing when they will break but it is advisable that you do not stand next to a spring when the door is opening or closing.
We recommend that both springs be changed at the same time. This is due to the fact that the unbroken spring is likely to break in the near future as well.
Normally there is additional adjustment required when tilt springs are replaced.
Area we cover: O-B garage door Repair, including, Mississauga, Scarborough, Concord,  Toronto Beaches, Port Perry, Brooklin, Oshawa, Whitby, Uxbridge, Stouffville, Keswick, East Gwillimbury, Mount Albert, Bradford, Newmarket, Pickering, Ajax, Barrie, Innisfil, Thornhill – Toronto – Unionville – Vaughan – Woodbridge – Burlington – Hamilton – Waterdown – Brampton – Bolton – Orangeville – Caledon – Waterloo – Kitchener – Guelph – Cambridge and Woodstock, Danforth, East York, Oshawa, Maple, King City, Markham, North Toronto, North York, Oakville, Richmond Hill, and GTA Ontario.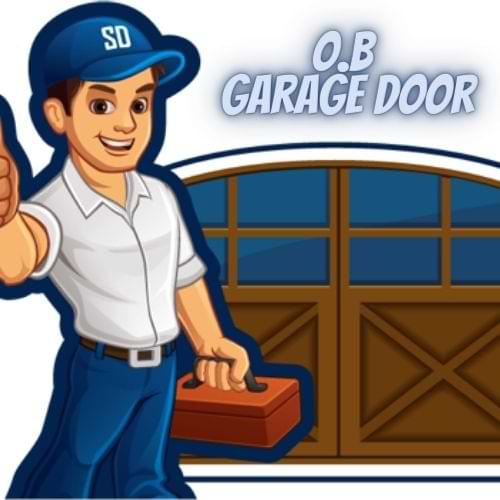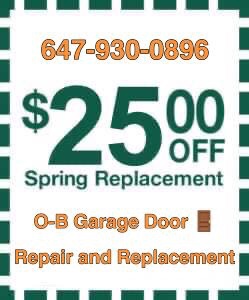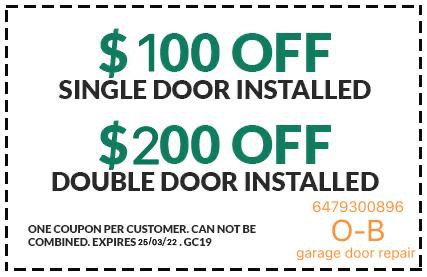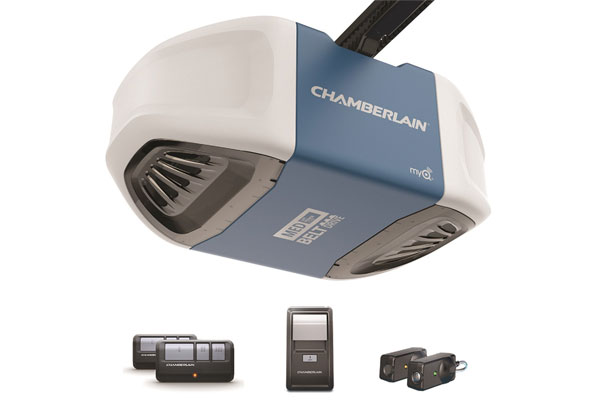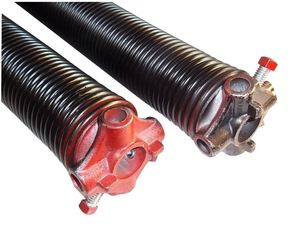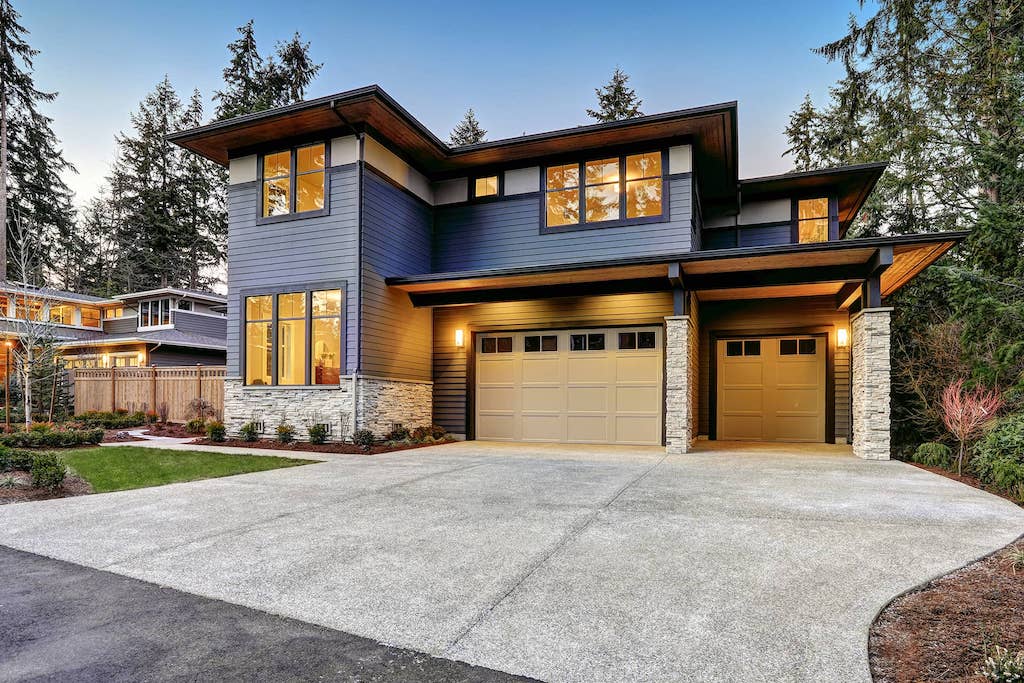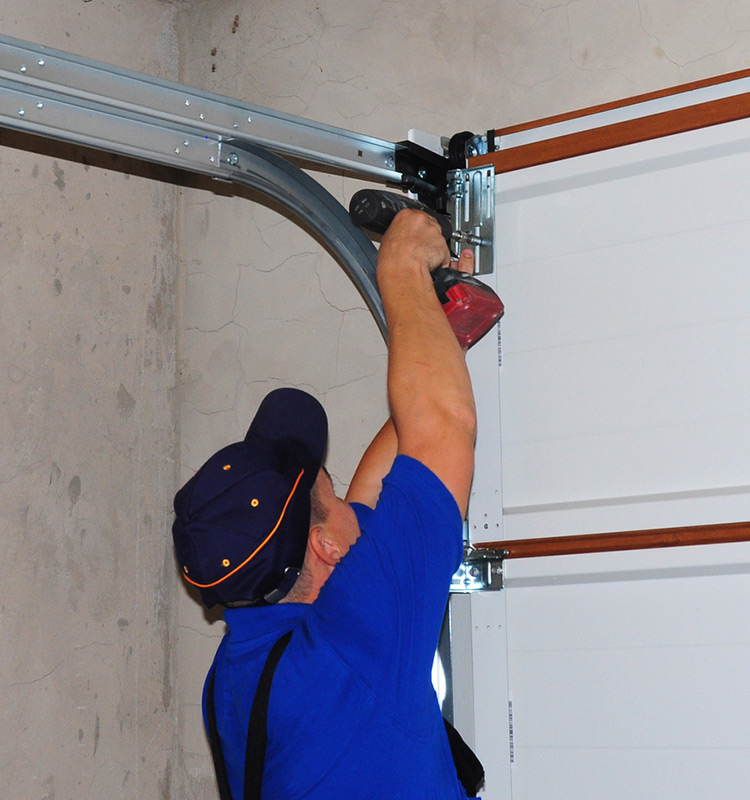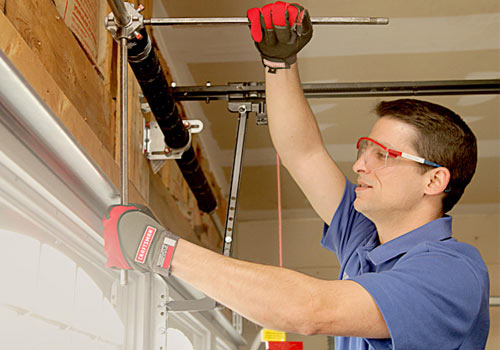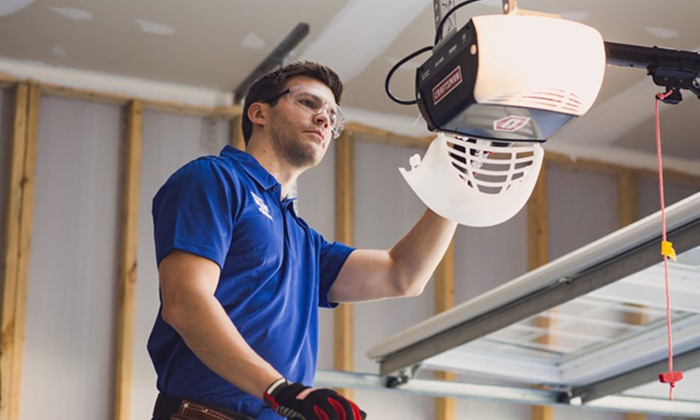 O-B
Garage Door Repair
647-930-0896